Chiropractic Testimonials
"Dr. Steinle and his amazing staff are exceptional and incredibly kind. I have been on a treatment plan for degenerative disc "disease" impacting L4 and L5. I've had chronic issues with back pain for several years, and the worst episode and pain yet had lasted 3 months when I had my initial consultation. I had been doing physical therapy and wanted to avoid a visit to a spine doctor.
I just started my second of three months of treatment, and my pain is gone. The treatment plan is healing and restoring function in my back. I feel amazing!
Dr. Steinle's focus on functional health is important to me. His processes, patient care, communication, and facilities are the best I have experienced. I am grateful to have found Health and Harmony Chiropractic!"
- Sharon
"I live here in Evergreen. I sought after chiropractic care because I was starting to wake up with a stiff neck, lower back pain, and feeling like I was losing general mobility in my body. I had previously been under chiropractic care before moving up here, so I knew the value in chiropractic care. Now, I just have total relief and comfort! I have mobility I can work out without pain. I just feel so much better."
- Megan
"I did some reflection about my experience at Health and Harmony. Since starting care I finished the half Ironman and summited Mount Kilimanjaro. Now, two weeks later I realized that my body held up wonderfully. No knee pain. No back pain. How cool is that! Thank you for helping me create a healthy foundation and body. I'm blessed to have your team as a part of my life! Now onto 75,000 pullups : )"
- Justin
"I had an accident when I was 10 years old that gave me whiplash and I've had bad headaches and migraines ever since. I also started having overall body pain and was diagnosed with fibromyalgia. I've gone through I don't know how many doctors, chiropractors, acupuncturists, and physical therapists looking for someone or something to help me. I had no quality of life, couldn't be a good mom or wife, couldn't work, I felt like my life was over.
I found Dr. Steinle on Google when I was looking for Functional Doctors. This was the first time that I had X-rays taken at a chiropractic office and could see how messed up my spine was. Dr. Steinle explained how my spine looked and the problems it was causing me. Not just pain but it was affecting my allergies and brain fog and other issues I was dealing with. He laid out a treatment plan and I knew it would be good for me but I had no idea how good it was going to be! After just a little over a month, my headaches are gone, I can move around so much better, my allergies are almost gone, my tinnitus is gone and my migraines are much, much better! Most chiropractors I've seen just crack everything and send you home. Dr. Steinle is very particular about adjusting just the right spot! Before Dr. Steinle, I was in bed most of the day and would be in bed for the night by 4pm. I'm able to stay up longer and have a lot more energy. Really, in just over a month, my life has completely changed! I'm so happy and my son and husband just can't believe the progress. I cannot say enough about how much everything has changed for me and it's all because of Dr. Steinle."
- Megan
"I am a stay-at-home mom of two kids, ages seven and four. I came to health and harmony because I was having a lot of anxiety since about August of 2019. I was having a lot of trouble sleeping. Actually, I hadn't slept since August 2019 through the night until just last night, I slept through the night for the first time after coming here for three weeks. Dr. Steinle has really helped me with that. I was having a lot of pain in my arm because of the compression in my back, and that was keeping me up at night and I didn't realize that's what it was."
And now I'm almost pain-free after nearly three weeks of treatment. So that's been amazing and a huge life-changing event for me recently. My anxiety is a lot better as well because I'm sleeping better and I don't have that pain in my arm that was causing me to worry. I was having a lot of migraine headaches, which are almost completely gone as well. So lots of really good things happening. You know, I lead a busy life, we are avid skiers in our family, I have two young kids, so to see the change that I've seen just in three weeks has been honestly amazing. Amazing. Thank you."
- Renee
"I have been dealing with back pain for a few decades. The pain got worse and worse but It always seemed to "go away". I hadn't realized, until now, that my body was going through degeneration.
The last straw was on Mother's Day 2021. My Sister and I decided to throw a decadent brunch for all of the mothers in our Family. There were 12 in attendance. The pain was excruciating throughout the whole day. I couldn't sit down because when I stood up, the pain would cause me to want to pass out.
After missing a few days of work, I talked to my boss and he referred Dr. Jason Steinle.
THIS WAS ONE OF THE BEST SELF-CARE DECISIONS THAT I HAVE EVER MADE.
I found out that I was experiencing Subluxation and in the the 3rd stage of Degenerative Disc Disease. The x-rays were sobering. I knew then, that if I didn't get the help that I needed, I was going to end up under the knife of a Surgeon and that wasn't happening.
Dr. Steinle makes me feel heard and worthy of deserving the help that I need. I have to mention his solid team - Madison, Lauren & Cate, who make me feel important, comfortable and I never feel rushed or judged.
Dr. Steinle has taken the time to educate me to the fullest as to what is going on with my body. To me this is priceless.
I have been coming here for only four weeks now and I feel as if I have my quality of life back. I know that I still have a long road ahead of me to ensure that I keep moving forward in my treatment and that my ultimate success is achieved. Being under the care of Dr. Steinle, I am convinced that I am in good hands and feel that my mobility will be fully restored! I would recommend Health & Harmony to anyone who is wanting to get help with their pain or better yet, PREVENT getting to the point of despair that I was feeling.
The only warning that I have for you, in regards to beginning your care with Health & Harmony, is that you will no longer have an excuse in regards to going to the gym..."
- Jen
"Dr. Steinle and his amazing support staff have brought nothing but joy to my life. First, by attending to my acute, recurring pain in my lower back (brought on by trying to grab my 90-lb dog running past me at 20 mph), then through my follow-up appointments to keep everything ship-shape. All have been met with care, concern, patience, expertise, and believe it or not, laughter. I mean, we laugh ALL the time during my visits (even during adjustments!) and that ease and comfort with which those exclamations are shared illustrates how immediately I felt I'd become "part of the family" there.
Whenever I walk in, it's like an episode of "Cheers." This is a highly, highly recommended practice, and the reviews speak for themselves. Just go in for a free consult-it really could change your life."
- Dave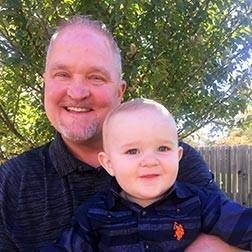 "My wife described me to Dr Steinle as "mission impossible" because of all of my medical diagnoses. Prior to meeting Dr. Steinle, I was not able to live a normal life. My back pain become so intense, I basically became a hermit by late afternoon through the evening. When I woke up in the morning it would take 30 minutes to walk without hunching over. This affected my mood and my relationship with my wife.
Not to mention not being able to play with my grandson like I would like. After literally less than a month of treatment I am able to have a quality of life I haven't experienced in years. I am active again. My wife and I can go out to dinner in the evening. I walk without pain. I do not need pain medication. I enjoy every moment with my grandson and it doesn't hurt to pick him up. The staff at Dr Steinle's office is second to none. I have experienced too many Dr's offices to count. They are personable, professional and you can tell they truly care. When you meet Dr Steinle it is immediately apparent he is passionate about his work and wants people to have a better quality of life with their natural ability to heal."
- Dominic S.
"I have suffered from back pain for 35 years. All my life I have gone to various chiropractors over the years who treated symptoms, but I still had pain. Not until I came to Dr. Steinle have I been pain free. For seven years now I have not had constant pain. I'm able to bike, golf, hike, backpack, and ski without pain. He is the only chiropractor that ever took the time to find out what was wrong and not just treat the symptoms. He's treating the cause. He doesn't just say hello and treat you. He takes the time to really treat you, he takes the time to be very caring."
- Marilyn A.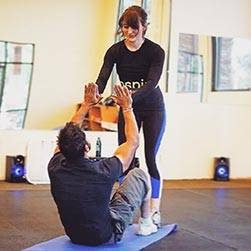 "I am a local personal trainer and group fitness instructor here in Evergreen. I came to Health and Harmony Chiropractic because I was hit by a drunk driver. I was dealing with a lot of pain and headaches; as a result, was unable to do the group fitness and training that I usually did for income. Luckily, I started going through chiropractic care and a prescribed healing plan. I have made HUGE strides.
Now I'm able to work with my clients and teach fitness groups without that extreme pain. Dr. Steinle and the team have helped me substantially in making huge strides in my health and my ability to function as a normal human being again."
- Lyn-Holly K.
"I am an active runner and always looking for an adventure. My body doesn't always agree with my mind when I decide on a crazy race to run. Dr Steinle has helped my body to be as active as my mind wants it to be. This year I ran the Telluride Mountain Run and I can honestly say it was the most difficult race I ever did. It started at 8000 ft. and went up to 13200 ft., a 5000 ft. elevation gain in about 6 miles. This race would have been even more difficult without the help of Dr Steinle.
Not only was my back adjusted but my problem area knees felt great. The after-race adjustment was amazing, too. Thank you Dr. Steinle and the staff at Health and Harmony Chiropractic Center for helping me tackle the mountain!"
- Bethany V.
"I came in to Health and Harmony Chiropractic because my two month old, Reagan, was colicky. She would scream and fuss for three to four hours nightly. We called it the witching hour. She also hated car rides and she screamed as if she was being tortured. She would lose her mind anytime we had to put her in the car. So we came in to get help with her being uncomfortable all the time. Her colickyness is gone and now Reagan can even get in the car without screaming."
She actually sleeps through the night now and is calm in the evenings! She's not squirming and uncomfortable all the time anymore. She's an overall more happy baby. The appointments have been great. Dr. Steinle is amazing. He's very gentle with her, very cautious, very aware of what's going on with her body. He explains everything as he is doing it. We are very happy with the progress that Reagan has made."
- Regan P.
"I came to Health and Harmony Chiropractic for two reasons: I have scoliosis and I have a hip that was threatened with hip replacement surgery. I think my finest and most dramatic change with treatment has been my hip. I have no pinching, no hindrance when I walk, I have a much wider and freer stride, and I just feel like a new me when I walk. There will be no hip replacement! So I am a very happy person!"
- Nancy S.
"Working with Health and Harmony has been an absolutely incredible experience. I let myself go for way too long. I was getting headaches. They were horrible, migraine-like headaches. My shoulders were super, super tight to where I had this stabbing pain in my right shoulder. Actually my lower back was messed up too. It was really like a crazy trifecta of issues. I couldn't be more thrilled with the results that I've had here. A staff that is so generous and gracious and Dr. Steinle is a miracle worker in my mind.
I haven't had a headache for months. I probably don't remember the last time I had a headache. My shoulders are finally relaxed and I don't get that stabbing pain. I can go back to doing all the things that I love doing; hiking, biking, swimming, snowboarding, running, everything!"
- Amanda M.
"Prior to coming to Dr. Steinle I was in constant pain and wasn't sleeping at all. I would get three hours max a night. Within the first week of treatment I doubled my amount of sleep. Now, I'm sleeping straight through the night and waking up ready for more sleep. Such a huge improvement!"
- Scott Y.
"I tried 3 other chiropractors and finally gave up thinking my hip issue would just be something I always managed. Years later I took a chance on Health and Harmony and it was the best thing I ever did! Dr. Jason was the first person to diagnose my issue and be able to fix it. No pain anymore and I feel more healthy and alive than ever! It's been a very, very great experience coming here. They're awesome."
- Courtney D.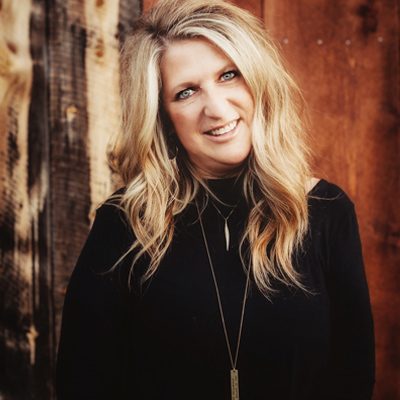 "Oh my goodness, I cannot say enough great things about Health and Harmony Chiropractic and Wellness Center. First of all, Dr. Steinle is the absolute BEST. I had some major chiro-PTSD, and he calmed my nerves immediately. He was so kind, gentle and patient with me and I felt 100% confident that he truly did know what he was doing from day one. He didn't make me feel stupid for my "fears."
I was referred to his office by someone I completely trust, but I'm going to be honest...I walked in the door feeling very skeptical. I have had an impinged nerve for three years (because my L5 vertebrae was basically bone-on-bone), and have had extreme pain EVERY time I hike. I was ready to try anything to get rid of the pain and get my life back to normal (and I wanted to avoid spinal fusion surgery!). Dr. Steinle was sure he could help me, and he HAS! I have been seeing him for 2 1/2 months, and my pain is GONE! Unbelievable! I will continue to see him for the rest of my life, and I plan to refer the world to him!
Also, let's talk about his amazing staff...Madi, Cate and Shelby...oh my goodness...they are all so awesome! I adore each one of them and appreciate their kindness, their warmth and their ability to make me feel so welcomed each time I walk in the door. I want to continue going on a regular basis (even though I don't need it) just so I can see all these lovely people!
TRUST Dr. Steinle...he knows what he is talking about and will take great care of you!! AND...he tells the best jokes. SO grateful for this practice!!"
- Sharla J.
"I've been coming to see Dr. Steinle for about 15 years. I started coming to improve my posture. The chiropractic care that I received has improved my health all around. I am very athletically active. I play tennis. I work out. I play softball every summer and Dr. Steinle keeps me at the top of my game. I'm hunched over a computer during the day at the office, Dr. Steinle releases me from that pain. I'm very grateful!"
- Bill G.
"The staff is very passionate and super dedicated to your health in every way! I would give 10 stars if it were an option!"
- Rick S.
"I came to see Dr. Steinle with a severely thrown out back. I could barely move. I am an electrician and have thrown my back out many times over the years. This time was the worst it had ever been. Before finding Health and Harmony I had been to a bunch of different chiropractors with limited success. The problem always seemed to come back. They only worried about a temporary fix. Dr. Steinle had a completely different approach.
He took xrays at the beginning and created a plan for me to follow. It was discovered that one of my legs was shorter than the other one which was contributing to my problem. My mother also had the same issue. I am back to my active lifestyle virtually pain free. I am now climbing 14ers here in Colorado! I would definitely recommend Dr. Steinle."
- Daniel N.
Monday
9:00am - 1:00pm
3:00pm - 5:30pm
---
Tuesday
1:00pm - 5:30pm
---
Wednesday
9:00am - 1:00pm
3:00pm - 5:30pm
---
Thursday
9:00am - 1:00pm
3:00pm - 5:30pm
Health and Harmony
Chiropractic and Wellness Center
1202 Bergen Parkway #102
Evergreen, CO 80439
(303) 670-1001